Learn how you can use covered call options to earn additional revenue on top of cash sales.
Covered calls can be a good way for farmers to add nickels and dimes each month to their final sales. If you are a producer who is looking to learn more about hedging with covered call options using the commodity futures markets, read our e-book Hedgers Guide to Covered Calls.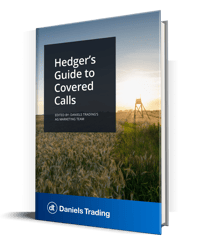 This e-book answers important questions such as:
What are covered calls and how do they work?
Why should you use them when hedging?
Under what market conditions should you use them?
Fill out the form to access your free copy today.